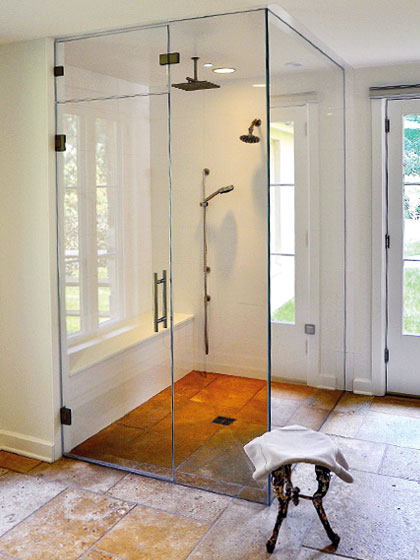 Frameless shower enclosures have set the standard for design features in bathroom remodeling. The clean, uninterrupted lines of a frameless enclosure create an open and bright feeling in any bathroom.
Let our experienced designers guide you through the process. We offer steamed enclosures, angled units, curved glass units as well as tub enclosures. Your enclosure can be customized to include clear (green), low iron (invisible), acid-etched and textured glass. Our technicians assemble your unit on site so customizing the layout and panel sizes along with a large selection of hardware options, styles and finishes, make creating your personal vision an interactive experience.
Framed enclosures are popular and an economical way to update your bathrooms. These enclosures can also be customized by choosing a variety of glass textures and metal finishes such as polished chrome, brushed nickel, oil-rubbed bronze, antique and polished brass and many others.